Participant's Voices
Sonny

[58th batch (2017 Autumn forum)]

[Indonesia]
Participating in 58th batch (2017 Autumn forum)Indonesia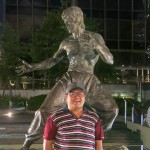 Voice before the participation
"I may not that small, but I'm agile to explore".
That was my statement when the first jury asked me to explain about myself. All juries were smiling. Surprisingly, that statement was like a key to unlock the opportunity to be one of participants in IATSS Forum, the program that I believe will be very beneficial for my career, social work, hobby, and personality enhancement.
I hope that I can keep challenging myself in this valuable opportunity to stay agile to explore all programs prepared by amazing IATSS team and all knowledge delivered by the experts in their respective sectors. I also expect that my exploration journey during IATSS Forum will be more impactful with the knowledge sharing among new friends from various nations.
I wish that my time in Japan can broaden my horizon and enrich my perspective in managing every challenge of life. I also want to have a moment to capture the beauty of culture, nature, and life in Japan through writing and photo. I wish that my writing and photo during IATSS Forum may open another door of great opportunity following my previous chance to be best blogger in Indonesia in 2011 and blogger with appreciation to meet three presidents of Indonesia.
Last but not least, I would like to deliver my deepest gratitude for IATSS team who has worked by heart in preparing the program that has wonderful goal to develop the quality human resources from various countries by thinking and learning together.