Participant's Voices
Souk

[58th batch (2017 Autumn forum)]

[Laos]
Participating in 58th batch (2017 Autumn forum)Laos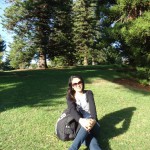 Voice before the participation
Sabaidee ()
This is the greeting from Laos! My name is Chanhsouk or you can just call me "Souk" as my nickname. I am now working as an English Teacher at Khangkhay Teacher Training College (KKTTC), Xiengkhouang province, Lao PDR. My current position is a deputy head of English Language Section.
Honestly, I am so glad and excited to be one who can obtain this essential opportunity for this training program. I event did not know this program before until I have discovered it on the internet and thanks for the technology that leads me here. This forum provides a good chance for me to enter the modern and civilized country in the world that I have never been to. I really expect that for almost two months in Japan, many important things will be happened which I can learn and develop myself among diversity society. I also believe that within the motto of "thinking and learning together" will be one significant aspect to allow us to get to know each other very well, at the same time, I will be able to obtain and utilized various skills and knowledge of being young leadership through the activities which are provided by the IATSS forum. Furthermore, this program will also allow us to exchange culture and value from different countries as well as expanding our social network cooperation in the future.
Lastly, I would like to appreciate to both countries' organizers and for your supports. Thank you for this program which provides a good opportunity for young leadership in ASEAN Countries. I am waiting to meet with you all very soon!!