Participant's Voices
Daniel

[58th batch (2017 Autumn forum)]

[Myanmar]
Participating in 58th batch (2017 Autumn forum)Myanmar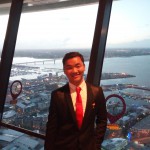 Voice before the participation
Mingalarpar (Greeting in Burmese)!

I am Zaw Tu Hkawng and from the city of Yangon, Myanmar. Currently, I am helping young people to become change-makers by nurturing them with knowledge and skills at the Harvest Rehabilitation Center which is based in Yangon.

I sincerely believe that IATSS forum will empower my spirit of leadership and innovation. Of course, I am thrilled to be friend and connected with excellent participants from ASEAN as well. I am very excited to participate IATSS forum in Japan because the people of Myanmar have seen Japan as the king of quality and mission-driven country.. At the same time, Myanmar is in its transition from military rules for nearly six decades to democracy. In the process of genuine democratization and development of Myanmar, the role of Japan plays a crucial role as Japan has been a fantastic partner and helpful contributor. Therefore, it would be phenomenal to learn from Japan in terms of their business practice, the spirit of empowerment, educational programs and so on.

Because of the bad legacy of the military government of Myanmar, the gap of knowledge is huge and the role of leadership is lack in all aspects and sectors. Because leadership requires certain amount of knowledge, skills, capacities, and more importantly actions and sacrifices. In this critical periods of Myanmar, it needs many people not only who can lead but also who knows where to lead with knowledge, skills, and missions. In fact, my whole life is all about leadership and it is why participating IATSS forum plays a crucial role to me. More importantly, I strongly believe that this forum will equip me with applicable knowledge, offer me unique leadership trainings and relevant problem-solving skills. Hence, I may become a dynamic and productive leader who makes the nations a better place.