Participant's Voices
Sandi

[58th batch (2017 Autumn forum)]

[Myanmar]
Participating in 58th batch (2017 Autumn forum)Myanmar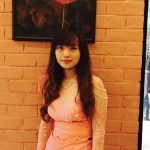 Voice before the participation
Hi Everyone. This is Sandi from Myanmar.

My motto is "every person is going through in their every day ups and downs, the good times and bad times. Good times will give me treasures and bad times will make me stronger".

Yay! Good times come to me now as I have been selected as one of participants of the IATSS 58th batch. Counting the days and one month left to go for this impressive IATSS forum. I have never been to Japan before and this will be the first time for me to discover what Japan is. I am very glad to meet and make friends with new people from Japan and ASEAN countries.

First of all, thanks in advance to all IATSS forum founder, lecturers, coordinators, IF Myanmar secretariat and staff who arrange this Forum to happen and support us throughout the program.

The most interesting things in this forum that appealing to me is the networking opportunity with young professionals from different cultures and backgrounds who are working well in their respective field and learning and sharing knowledge and experiences with them together. Other than that, from this forum I am eager to learn new fields for me such as sustainable community design, crisis management, urban planning and waste management practices in Japan and other ASEAN countries which would be very useful tips to apply back in my own country.

I hope this forum will uplift us to be good potential leaders, build more self-confidence level and change our mindset to better perspective. I have no doubt that this program will be a good turning point for both my career and personal life. I am going to document every single time and activities during this 55-day program.

I am ready to explore this fruitful forum and have fun together with co-participants from other ASEAN countries.