Participant's Voices
L_Leeko

[58th batch (2017 Autumn forum)]

[Laos]
Participating in 58th batch (2017 Autumn forum)Laos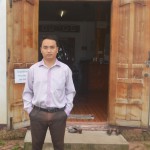 Voice before the participation
My name is Leeko VANH, I am from Laos. I am working at Tourism Sector (Luang Namtha Provincial Information, Culture and Tourism Department). After I saw the website announcement for IATSS Forum Program which let me interest all program supporting. Then I decide to apply for this Program why the project offers many activities for knowledge exchanging with other ASEAN member representatives, which is beneficial and useful to the human resources and socio-economic development especially the leadership training.
In fact, it is true that socio-economic development worldwide confronts many risks related to low qualitative and quantitative human resources in terms of modern technological development and industrial growth. In addition, we know the world is developed continuously to enhance the human livelihood by the limited nature resources, quickly population enlargement, economic competition; the globalization has changed the society to the new borderless world that related to the development of technology, communication, national and regional cooperation. For my view, IATSS Forum Program is a good opportunity for me to build effective leadership and learn the different methodologies of issue settlement techniques of group study in ASEAN region and Japan under the motto "Thinking and Learning Together". And the country is advanced with world class standard for modern technology aiming to extend such new experiences from Japan to other ASEAN countries that could lead to improve our jobs and accomplish the goal to be the good leader in the future; on the other hand, Laos is the ASEAN member that has one vision, one identity and one community with other ASEAN countries, so what potential and capacity that we have to exchange with other countries which is very necessary to have the professional leader to administer and develop country. As the reason, this opportunity very important for me about abroad training to strengthen my weakness for undertake the new experience to contribute my country to be civilization and prosperity.
At last, I really hope to be in Japan soon to meet everyone from ASEAN and Japanese lecturers to do research and discover the useful information together during in program. Although we have the limited time to live together but we can get in touch and have a good friendship to each other on forever.