Participant's Voices
Chi

[58th batch (2017 Autumn forum)]

[Vietnam]
Participating in 58th batch (2017 Autumn forum)Vietnam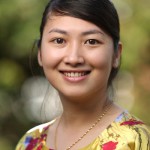 Voice before the participation
My name is Thinh Nguyen (Chi). I'm passionate about human rights. This passion motivated me to found and develop an NGO, Better Life VIetnam, aiming to improve the lives of underprivileged children and youth in my country. With an initial focus on education, my team and I were able to raise enough funds to purchase and then deliver books to thousands of children in rural villages in the North of Vietnam. In order to sustain our work, I have also launched a social enterprise, Tours For Books. We provide tours and organize travel services in Vietnam. Profits generated will be used to support education projects of Better Life Vietnam.

I'm very much interested in the IATSS Forum Program. I hope participating in this program will enable me to become a leader who can build a team in which members can grow by using other members' strong points and making up for their weaknesses. In addition, I expect to gain a deeper understanding of Japan, Asia and the World. Moreover, the Team Building Training component really attracts me. I hope this component will help deepen my mutual understanding and communication skills.

I'm very excited about living with and learning from other participants from ASEAN countries. I look forward to learning more about other ASEAN countries' culture from my fellow participants and also all the amazing work they are doing to help their communities.

I can't wait to see you all in Suzuka!