参加者の声
Chit

[56期生(2016年秋)]

[ラオス]
56期生(2016年秋)ラオスに参加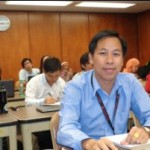 参加前のコメント
Sabaidee,
Hi everyone! I am Vangvichit Kittikhoun from Lao PDR. I work as a lecturer at the Faculty of Education, Souphanouvong University which located in Luangprabang, a world heritage city. I am very honored to be selected to join the 56th batch of the IATSS Forum in Japan. I feel very excited to meet new friends from Japan and ASEAN countries. I am ready to learn new things, leadership styles and cultures from them.
Although it is not the first time that I have been to abroad, I feel very excited to go to Japan. I heard that Japanese are friendly and very polite to visitors so I would like to see from my eyes. One friend told me that more than 70% of their land covers by forest so I think that Japan is a beautiful and nice weather country.
I will take this opportunity to learn and share ideas and knowledge with friends from other countries through the various programs at the IATSS Forum provided. I believe that it will be a memorable time and experience for me and all participants. Then we can make networking and keep in touch each other for a long time in the future.
Looking forward to seeing everyone soon!