参加者の声
Oudom

[55期生(2016年春)]

[カンボジア]
55期生(2016年春)カンボジアに参加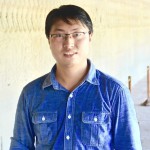 参加前のコメント
Expectations to and enthusiasm for the IATSS Forum program before coming to Japan

A warm greeting from Cambodia to all the IATSS forum staff, and all the prospective 55th participants!

My name is Oudom CHENG. I am currently working the National Bank of Cambodia as an economist. I am really excited to have been given an opportunity to join the 55th IATSS forum leadership program, where I can get to make friends from ten different countries including Japanese. Counting from now, there are approximately two months and a half to go and I am really looking forward to the program. I believe that through the program, I would be able to learn from and exchange cultures, knowledge, and experiences among all our participants, and especially about Japan. More than that, through our enhanced friendship, I expect to be able to utilize the knowledge and experiences that we learn from each other coupled with what we would be trained during the program to apply to projects that we would have.

Apart from learning experiences, I believe that other participants and I are looking forward to seeing, enjoying, and learning the beautiful and splendid views, cultures, and development experiences of Japan.
参加後のコメント
Oudom CHENG - My impression about IATSS forum:
Attending the forum, I feel that I have gained a lot of memorable experiences from the course syllabus itself and the observation and lessons learnt outside the seminars. From the syllabus, I noticed that the all lessons learnt centered around the theme of the program which is "Sustainable Community Design" from seminar on the theme study, the general seminar and the field trips we had. The key takeaways I could infer from this is that all stakeholders play their leadership roles in their own specialized fields to help built a community. That is the spirit of working together, living together, and growing together sustainably. As you learn during the program, you will how importance the motto "Thinking and Learning Together" is the key to your success in the program just like how it can apply to the real world you will see during field trips.
Another experience I had during the program is that leadership involves applying the concepts, practicing, and challenging yourself out of the box, out of your comfort zone. We can find the theory of leadership just from many sources such as books. But IATSS have shown me that it is more of putting it in the real world. In living and learning together in a team environment, I learnt to adjust myself to others, observe others, and accept the differences. What I learnt as leadership lessons are that leadership develop from proper planning, from sharing with group to engage, from initiating, from coordinating, from helping one another, from developing knowledge on the subject matter, from thinking what could benefit the majority, from being more brave, from expressing yourself in a good deed, from being strategically solve the problems. I learnt that communication skills, problem solving skills, time management, negotiation skills, observation on others skills are importance lessons I have learnt to develop during the program. However, I feel that this is just a beginning for me because I believe I have to work more on them from now on. IATSS forum have provided me the reasons why these skills are so important in developing leadership and IATSS forum experiences would be a lesson I can look back and reflect on in the future. All in all, leadership experiences I gained from IATSS forum is about utilizing and involving group power to achieve a common objectives or goals by building yourself to be knowledgeable, emotionally & physically healthy, trustworthy to others, loved, neutral, honest, and respected.