参加者の声
Kie

[55期生(2016年春)]

[タイ]
55期生(2016年春)タイに参加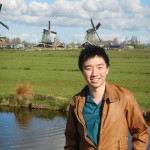 参加前のコメント
Greeting all IATSS staffs and friends,
My name is Ukrit Karoonkorn, participant from Thailand in 55th batch. First, I would like to say thank you to IATSS staffs and committees to give me an opportunity to be the representative of Thailand to join this interesting program. I really can't wait to go to Suzuka to gain new experience and attend wonderful training. I always think highly of Japan as the civilized country as it is the leader in numerous aspects such as logistics, economic, cultural and so on. I wish I could learn several things from Japan and bring them back to contribute to my country. Moreover, I think it's a very rare opportunity for a person to meet and spend time with the chosen representatives from various countries. I am eager to meet all of you to share experience and discuss a lot of things together. The program itself is also various and interesting as it does not only provide lecturing but also seminar, field study, group study and cultural exchange. Hopefully, I could have some spare time for travelling too :)
I will fully contribute my skill and knowledge in order to achieve program objectives as stated in IATSS motto: "Learning by doing and discussion is more efficient way for learning and generated new idea". I strongly believe that by attending this program, I will be able to maximize my experience and fully contribute back to my organization and positively to the country.
See you all soon!!
Ukrit Karoonkorn (Thailand)
参加後のコメント
My impression on IATSS Forum
Name: Ukrit Karoonkorn
Country: Thailand
IATSS leadership program is the most intensive and longest training program in my life. I'm sure that you will learn a lot during 55 days in Japan. First of all, you will explore a new meaning of "Leader" after participating a lot of group work during this program. The leadership, which IATSS try to seed inside you, will definitely different from the typical leader type you've heard. I'll not tell you how it is but I can say that I'm still using that skill in my current job and it really works. Moreover, you will make a lot of friends here. You will stay with people from different countries and cultures for whole day and night. You will find both common and different attitudes among us. This is the best and rare opportunity to know ASEAN better. Besides, the program is diversity. It has a lot of activities, not only lecturing but also group work, Japanese and ASEAN cultural exchange, and a lot of site visit range from agricultural to industrial. Last but not least, you will be touched by very cute and kind staffs. They are so nice and willing to help you everything. I'm sure that you will learn and enjoy a lot in this program. Just fully participate and make 120 percent preparation before attending!!