参加者の声
Said

[55期生(2016年春)]

[インドネシア]
55期生(2016年春)インドネシアに参加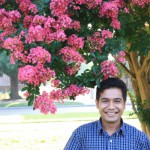 参加前のコメント
Leaders are both born and trained, and nowhere is better training conducted than at the IATSS Forum in Suzuka City, Japan. In light of this, I am confident that participating in the forum will be especially beneficial for building my leadership skills, character and network of connections. Furthermore, as a participant from Indonesia attending the program in Japan, I have cause to look back on the special historical ties and relationship between these two great countries. I realize that this forum presents an opportunity for all its participants to share ideas and learn together, in turn building stronger and closer ties between their respective countries in the ASEAN context, in my case between Indonesia and Japan.
As such, I would like to underline three specific reasons why I would cherish the opportunity to attend the IATSS forum. Firstly, as a lecturer, I would like to put forward a joint research and business proposal for capturing investment opportunities between Indonesia and Japan in the local context, and specifically in the province of Aceh. Secondly, bearing in mind that I come from and live in the place hardest hit by the devastating tsunami in 2004, I would like to learn much more about disaster prevention and management, so that I can share the experience and insight of the Japanese people with people in Indonesia, and particularly in Aceh. Last but not least, I would also like to develop long-term connections with potential future leaders of ASEAN countries, with the aim of creating a better future for all as well as a more peaceful, tolerant, prosperous and generous world, and especially ASEAN region.
I look forward to meeting you and doing a great job in Suzuka, Japan.