参加者の声
Cynthia

[55期生(2016年春)]

[ラオス]
55期生(2016年春)ラオスに参加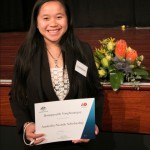 参加前のコメント
I heard about IATSS FORUM from my work. It was so exciting when I knew it is a leadership training program because I was looking for this sort of training program to improve my professional life. It is a great opportunity for someone who does not have enough budget for extra training and it is also one of my dream country I would like to see at least once in a life time.
After that I started to fill up an application form, did a lot of research about the forum from google and alumni. I have a gut feeling that this is going to be a great leadership training and a very tough one as well.
The day I received a phone call from Youth Union to come to an interview, I felt like I received a big bag of Christmas gift. I was so excited and counted down to the interview day.
When the day come and my name was announced, I know from that moment that the chance to be a new better person like other alumni is in my hands. I heard they say if anyone passes this program will be better at communication skills and their thinking process is very well-developed. I tell myself to do my best while I am a bit nervous because I am not very confident and extroverted
参加後のコメント
It is a great experience that I had an opportunity to participate in 55th batch of IATSS FORUM. We studied hard, travel a lot but I had so much fun. The places I enjoyed the most are Kyoto, Toba, Kobe and Moku Moku farm. I love listening to lecture from Mr. Yoshimi because it is very inspiring. All of seminar topics are very interesting. Most lecturers can change something sounds boring into a fun conversation and explains difficult concept in a very simple way especially politics.
Before I join the program, I was quite a quiet person and was not really brave to voice my opinion or confront different opinion in public or especially in my work. However, I am the opposite nowadays after the program.
During the program, I felt that the schedule is very tight which i found myself getting better in time-management. The most important thing is there are so much to learn and to have fun but no time to reflect on what we learned. However, when I come back from Japan to resume my work, I realize that the best time to reflect is when we actually put our lesson into practice.