参加者の声
Thida

[55期生(2016年春)]

[ミャンマー]
55期生(2016年春)ミャンマーに参加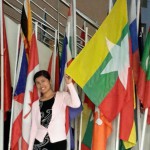 参加前のコメント
Hello Everyone!
Greeting from Myanmar!
Mingalapar and Have a nice day to you all.
I am Khin Thida Win from Yangon, Myanmar. After I knew IATSS Forum, the unique program that I wish, I would like to join and participate in this program. I was trying and waiting for the time to participate in IATSS Forum. Finally, my dream came true. When I applied to attend this forum, I was chosen as one of the candidates for this forum. I was very happy and excited. It was very lucky for me. I could not express my feeling how I was very happy. I noted that this intensive course is a basic necessity for young generation and awareness. However, I believe that I shall gain valuable knowledge and new ideas from this course and these will give great help in discharging my duties and responsibilities at work. Then, I am sure that I will have an opportunity to learn and discuss, exchange idea and share knowledge with other oversea participants for mutual benefit.
The motto of IATSS forum that "Thinking and learning together" with counterparts from various fields will enable me to promote creative thinking and interpersonal communication skills. I strongly believe that I will get greater knowledge and experience from this program. After return to my home town, I will surely be able to contribute and share the fruitful experience and knowledge with my colleague and community to develop country. Moreover, I shall be very happy to meet friends from ASEAN and Japan and we will be close friends. We can learn together at the various fields during the program in Japan.
I much appreciate and would like to say thank the esteemed IATSS for giving me the chance and great opportunities to attend 55th IATSS Forum. I am sure that I shall have much pleasure at this Forum with the participants from other countries.
Looking forward to seeing you all in Japan soon.
参加後のコメント
Title : My impression of IATSS Forum

IATSS Forum, is a very unique and an amazing program. I have never experience in my career life before like this forum. This IATSS Forum made me active, motivate and capable to help and cooperate with our people, communities and country to be developed in every sectors. According to the IATSS Forum motto "Thinking and learning together", we, all trainees, were thinking and learning together without interruption in Forum. So we have got not only scientific achievement but also our interpersonal skills.

During Seminar & Field study; we learned a lot of challenges and issues. It gave us many knowledge and experience regarding societies, politics, industrial technology, culture and sustainable community development. I got also very useful knowledge and experience shared by local business, organization, government officials and professors from many esteemed universities. Then I learned social, environmental changes and current situation on Study Tour, Japanese culture, home stay, cultural exchanges and International Exchange activities. Moreover, I saw many people who are working in various sectors and places and knew their walks of life.

Actually, the group study and work made me to have greater knowledge not only precise achievement and success to apply in discharging my duties and responsibility in work but also interpersonal communication as well. During Forum, I was very happy and have fruitful knowledge in meeting and discussing with ASEAN and Japan friends about IATSS aim and vision.

In conclusion, I am very proud to be a participant of IATSS Forum. As an alumni, I do believe I shall be able to work with Alumni in Alumni Association Activities in Myanmar to enhance our peoples' daily life and social welfares.