参加者の声
Issa

[55期生(2016年春)]

[フィリピン]
55期生(2016年春)フィリピンに参加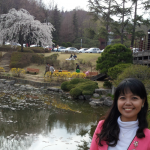 参加前のコメント
Hello everyone!
I am Issa from Philippines! I am teaching Physics in a university and doing some research works on possible applications of Physics concepts. As I am looking for some research problems to solve, my concern for my country grew stronger until that time came when I felt I to want to do more for my country by getting involved in discussions with people from the government or from other sectors.
I was able to experience other first world countries and when I got back to my country, I started to see the many rooms for improvement. But since I have always been in the academe, I never got to work with anyone from other sectors in terms of solving "real" problems of my country and thus I know my leadership skills as well as my decision-making among others, still need to be improved if I decide to do something for my country. Finally one of my colleagues informed me about IATSS and I was so glad to see that there is a venue to hone myself more in terms of leadership. I am really looking forward to discover and improve myself through the IATSS Forum, to meet, collaborate and share friendship with the future leaders of the ASEAN countries, and to experience Japanese culture. Finally, I heard that the Forum will not be easy but I believe that hard trainings are opportunities. See you soon!

Marissa Pastor
参加後のコメント
My impression of Japan and IATSS Forum

I never expected that I would learn so much about the process of building a nation at the IATSS Forum. I was very interested to do something for my country and the IATSS Forum gave me a great opportunity to widen my perspective on how to maximize the use of various available resources in a community, that when gathered together will have a big impact to the development of a country.


Apart from learning about efficient utilization of resources, what I liked the most during my stay in Japan is having the opportunity to learn and experience Japanese culture, as well as the chance to meet and work together with brilliant ASEAN young professionals. The loyalty of Japanese is impressive that left me curiously thinking how they came to have that heart. Additionally, I was thrilled by the fact that ASEAN young professionals, having the possibility of being the future leaders, were gathered together and were working on a common goal. Although the culture differences were so vivid, our batch's long arms successfully embraced all of it that in the end, we were definitely united as good friends. In this way, I left Japan with great friends and with a big hope that this beautiful journey will bear a good fruit in the future, as different ASEAN countries collaborate for the common good.