参加者の声
Sovath

[56期生(2016年秋)]

[カンボジア]
56期生(2016年秋)カンボジアに参加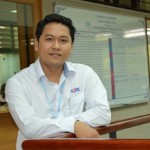 参加前のコメント
IATSS Forum Participants Voice

Suo Sdey Everyone!
I am Sovath, Cambodian Participant in 56th batch. The first impression of the program was sharing attending experiences from the ex-participants of the IATSS Forum in Cambodia. I learnt that the forum was fun with international learning environment. It was the place for young professionals able to gather and think together and we will learn through various learning approaches.
Anyway, the important thing now is to be ready with the theme study and completing assignment for each seminar. I think it is one of the key successes by spending several weeks for researching on relevant information to course syllabus before the program start.
I am really excited to get new friends. To me, leadership starts from friendship. I believe we all will achieve our objectives for IATSS Forum with personal readiness, since it is professionally well organized.
I am looking forward to seeing you all soon. Best Wishes,
参加後のコメント
Dear beloved friends,
A few months have passed over after coming back from Japan, IATSS Form. I would like to confess that the program really influents me especially the power of cooperative leadership mindset. Two questions always occur to my thinking process. They are what the sustainable community design is and how to mobilize the resources. Next, I would like to highlight 3 main social activities as following:
First, the public relation activity of CIAA, Cambodia Iatss Alumni Association which was the leadership seminar on Cultural Intelligent. This was to share my personal experiences of living and learning in Thailand and Japan under multi-cultural context. During sharing the slide PowerPoint of activity related to all my IATSS friends, I was really emotionally miss my batch which thinking impossibly came back together to autumn at Suzuka prefecture, Japan. Second, the sharing session of my learning points from young leadership program, specifically the facilitation skills and team building to my CJCC's staffs. From this moment, I could recall all activities and file up for my training class. Third, I have been invited to be guest speaker for public speaking for youth empowerment, since there is more than 60% of Cambodian people are under 35 years old. Frankly, I have something to talk, because I have been training and attending many seminars organized by IATSS Forum. Finally, I would like to thank to the forum especially IATSS's facilitator team who have been working professionally towards the growth of ASEAN young leaders and hopefully see them more often in Cambodia.