参加者の声
Andy

[56期生(2016年秋)]

[シンガポール]
56期生(2016年秋)シンガポールに参加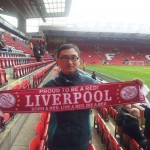 参加前のコメント
Hello everyone! I am Andy from Singapore. I am very excited and honoured to be part of the 56th batch of the prestigious IATSS Forum. I am looking forward to meeting new friends from different countries to learn the various leadership styles and cultures which will be useful in this global world. I will also be able to experience first-hand and learn the Japanese culture.

I am also happily married for six years to a beautiful wife, Judy with an adorable three year old daughter, Athena. They give me the daily motivation to work harder and to provide a better future for them. Although this is the first time I am going to be away from them for such a long period, they are very supportive of me joining the IATSS Forum.

I will cherish this wonderful opportunity to learn and share with friends from other countries through the various specially line up programmes. It will be a memorable time and experience as we create our own special and unique memory lane and build positive relationships with one another. Looking forward to seeing everyone soon!
参加後のコメント
Useful message or advice for the up-coming participants, like "do and don't
during the IATSS Forum

Hello Friends! Congratulations on being selected for the IATSS Forum.
Once you join the IATSS Forum, you are part of a larger family that extend beyond you could possibly imagine. The IATSS Forum left a deep impression on me which will continue to resonate even after the 55 days is over.
55 days might seem really long but the days will pass really fast.
Reports will be done eventually. ASEAN Cultural Day and Final Presentation will definitely be a success. There will always be diversity in any team. Every team member will be stressed with various responsibilities during the course of the programme. There will also be trying moments for the team. But the team will move forward with a strong sense of common purpose. The team will prevail because we are stronger as a team, each bringing a different perspective and adding value by helping one another.
Spend more time with your batch buddies. Talk more to one another. Treasure every moment. This is a gift that will only come once and will stay with you. Continue to maintain your sense of humour and have lots of fun!