参加者の声
Nisha

[57期生(2017年春)]

[マレーシア]
57期生(2017年春)マレーシアに参加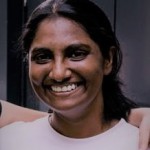 参加前のコメント
I did not expect my application (the second after 10 years) would be successful - it was awesome to have been accepted as a fellow! I take this as a sign that I have grown in the right direction since my first submission.
Today with my partner of 7 years I run a social business focused on environmental sustainability consulting, education and community programming to raise environmental empathy through experiential learning. We have over the years traveled locally and abroad to explore what sustainability means in its local context.
I am overwhelmed that I will be able to spend 55 days in Japan with other ASEAN fellows, this is hitting 2 birds with 1 stone!
To learn in-situ from a long culture of self sufficiency, respect for nature, innovation and constant reinvention in Japan while having access to fellows who can share current, on the ground insights from around the region. I look forward to learning more about the drivers of the current behaviours around environmental appreciation/value and hope to find common ground in developing a community of practise during the program. I am excited at what insights/lessons I can bring home to be applied in Malaysia as each region/state here has different needs and it's own unique values. Thank you IATSS secretariat both in Malaysia and in Japan for your support, I'm excited to meeting other fellows from the 57th batch and the priceless experience ahead.
Arigato!
参加後のコメント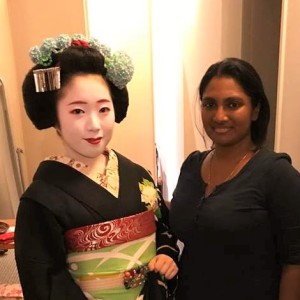 It has been 4 weeks since the IATSS Forum. Everything is the same but different, even writing this has been a process of reflection.
The forum for the most part allowed me to understand things from the perspective of my batch mates, revaluate my unexamined assumptions and reconnect with some friends/seniors who I later found were Malaysian IATSS Forum Alumni. These post Forum chats have also been very encouraging for me to be a part of MIFA.
Overall I had an awesome experience; I enjoyed the lectures, field studies, self-development days, and the many conversations with my batch mates, staff and the professors. Each learning experience is unique and I found it important to be prepared for each session/field trip by doing some basic research like how we developed our country presentations and brought items to show. It was also important to be flexible and to change based on new opportunities- that was how I got to meet a Maiko! Overall I can honestly say my batch mates were a valuable part of this journey, many discussions occurred during our report writing and meal times. I was impressed at the many people who would take on volunteer roles that helped us coordinate the ASEAN Culture Day, onsen hangouts, give reminders for FB posts and supermarket runs. We laughed, gossiped, cooked and worked hard through group study together. The group study was a process which took my team through a rough start and ended up with a project and pitch that we were all proud of. Looking back, it was valuable to us to take notes (typed it out on ppt) during each group study day which were shared at the end of each day. This provided common understanding and allowed members to catch up (English comprehension varies within the group). Overall I'm grateful for the opportunity to learn and grow together.
Since returning, Lydia my fellow Malaysian and I are currently compiling pre-departure references for outgoing IATSS Forum participants. We are attempting to compile all the Malaysian country presentations for the Sustainable Community Design theme over the years to assist outgoing participants gain some insight and for discussion among alumni developing new projects. We also want to develop something (we are still working on this) to assist potential candidates convince their bosses of the benefits of their staff attending the IATSS Forum. We believe these 2 actions can encourage better participation and sustain the enthusiasm of returning candidates.
As a new MIFA member I am enthusiastic to meet and learn from alumni from other countries and work on projects that can spark change. I look forward to the Alumni gathering in Laos, December 2018.