参加者の声
Kick

[59期生(2018年春)]

[ラオス]
59期生(2018年春)ラオスに参加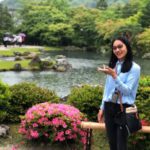 参加前のコメント
参加後のコメント
Voice after participating at IATSS forum batch 59 "Some tips for being an active participant"

Hi all participants batch 60, I am Kick from Laos. I would like to share my experience at IATSS training. In order to be an active participant, firstly, get yourself ready in terms of physical condition: taking some time for exercise and bring some of your favorite foods from home countries if it is possible. If you cannot eat well, it will affect your mental and physical functions.
Asking questions and asking for clarification during lectures and presentations by reading through the lecture topic and presentation in advance. It is important to stick on two weeks schedule in order to remind you what the lecture and presentation will focus on. If you find that the topics are really new and you have no ideas about it, please takes around 10 or 15 minutes searching it. This will make you more interested in lecture and presentation.
Volunteering to do something when it is needed or asked for, it will be more challenging and get more lesson leant if you raise your hand to do some things that you are not familiar with. In addition, do not be afraid for doing something new or for volunteering, just open yourself to talk with other participants, then you will get more confident and enjoyable in doing it. I am sure that your friends will give you the floor and give you the big support.
Response to surveys and start writing your assignments as soon as possible, it is very important to check your email frequently and response to the survey very soon when you receive it. The sooner you do your survey you will make it better. This is because your mind is still fresh about the content. Remember, all your comments are very important for IATSS stuff and next new batch in order to make this program more effective in the future. For the assignments, look at the requirement of the lecture and field trip carefully which one needs reports. Then list them down, after field trip and lecture you should start doing something about, at least write outline of the reports. In doing so, you will have plenty time to explore and enjoy your life during 55 days in Japan.
I hope all of you will have a great time with new environment and friends. This opportunity gives you such wonderful journey.