参加者の声
Naeim

[60期生(2018年秋)]

[マレーシア]
60期生(2018年秋)マレーシアに参加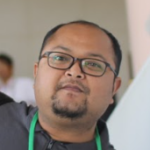 参加前のコメント
Hello everyone,

My name is Zulkhairul Naim or you can call me Naim from Malaysia. It is my pleasure to be part of IATSS big family and I would like to express my sincere thanks to the committee for providing me this great opportunity. When I heard about this program from my friend, I straight away find it out and I did not hesitate to apply. This is because I will get a lot of benefits from this programme.

As a young leader, I would like to understand and explore more about culture from different ASEAN countries as well as Japan. In addition, I wish I can polish my leadership skill in which I can apply in my daily life as a leader in my country. Networking is so important. I wish that I get more networking from ASEAN friends as well as Japanese.

In order to blend to a new life, culture and friends in Japan , I will make sure that I have clear expectations about the forum as well as be flexible in anything that I will do.

Last but not least, I strongly believe that this program is one of the best where young ASEAN leaders can share and exchange their knowledge and experienced.

Thinking and learning together and I'm look forward to meeting all of you in Japan.

Best wishes

Naim-San
参加後のコメント
NIHON – The land of rising sun, raised me up!!!!


" Dear IATSS Forum,
You raise me up, so I stand on the mountain,
You raise me up, to walk on the stormy seas,
You raise me up, to more that I can do,
Thank you very much "
Best Wishes,
Naeim, MALAYSIA, 17 Dec 2018

 
First of foremost, I would like to thank to the IATSS forum for giving my such Ichi go, Ichi E experiences. This is unbelievable! .I would like to say that I have learn a lot through 55 days in Japan. Before come here, I was really nervous and a lot of things running in my head such as whether I'm going to be fine here, I'm ready to absorb all the information given by the respected lectures and how I'm going to adapt to stay with strangers from different backgrounds and culture for almost 2 months. But, it turns out to be super fine.

If you asked me, my experiences at IATSS that means for me, it will be a lot. Most of us will talk about knowledge. But for me, the most valuable experiences that I get from here is about friendship. I'm really impress how we can laugh, smile, make jokes, work and create conflicts together despite we just know each other. In a short blink of eye, all of us look like a family and close together , not just among fellow participants but also with staffs as well. I'm so sorry If I hurt all of you. Thank you for treating us like a family. I have so much joys with other fellow participants and staffs.