参加者の声
Thanh

[61期生(2019年春)]

[ベトナム]
61期生(2019年春)ベトナムに参加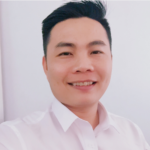 参加前のコメント
Dear IATSS Forum,

I can't wait to see you ALL in Suzuka city! My full name is Doan Van Thanh, from Binh Duong University, Viet Nam. Host the international students, set a lot of cultural -academic exchange and give lectures about Vietnamese History and culture to foreign students are some wonderful things I really want to carry out at my university. It is very difficult to achieve these goals, but with a desire of knowledge, skills, and English,I can overcome that tough situation and gain success.

I graduated in History (2007) and in English (2014) from Can Tho University. I taught History and English at high school for over 9 years. With all my experience, I myself understand clearly about the importance and the necessity of international cooperation in Education, especially when I work for Binh Duong University, in International Relations,I have opportunities to "bring the world" to my students.

Being a member in the IATSS Forum in Japan with many countries around is a key to open that door to the world. Spend time in taking the training and workshop, practicing skills and making projects in Japan with international friends will bring me a good chance to widen my knowledge not only in my professional career but also in my personal experience. Especially, "leadership training" in the IATSS Forum is the most attractive part of the program. Definitely I will obtain a lot and diverse of skills including team- building, project planning, cultural exchange. Last but not least, English fluency is the result of practicing and learning from each other in an international atmosphere.

I hope in the future, Binh Duong university in specific, Viet Nam education system in general will succeed in setting and maintaining those international collaborations in purpose of building opportunities for life training./.