参加者の声
Anika

[59期生(2018年春)]

[インド]
59期生(2018年春)インドに参加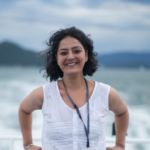 参加前のコメント
Hello everyone
Greetings from India. I am Anika Mohla and I belong to the national capital, Delhi. I am a journalist by profession and currently working with Femina, India's largest-selling women's magazine.
It's a matter of honour to be selected for the first batch of participants from India to a prestigious platform such as IATSS Forum. Representing my country instils a rare sense of responsibility and this is what makes it even more exciting and challenging to absorb newer learning and experiences. I look forward to learning about Japan and its culture as much as of other ASEAN nations, including their social culture, education system and work ethos.
While India is the first country outside the ASEAN region to participate in the forum, I believe the core issues of development and humankind remain the same no matter where one lives. Like no man is an island, no nation too is either, more so in a world where the boundaries are getting increasingly blurred—in the political, economic and environmental context. It's being in a diverse atmosphere that the separateness dissolves and we realise the oneness. Interestingly that's also the Indian philosophy, vasudhaiva kutumbakam (the world is our family). And this where I see it merge with the IATSS Forum motto—thinking, learning AND living together.
As I see it, all the world's problems, and solutions to those, boil down to how we treat nature and human beings—everything else branches from there. When both these are allowed to nurture and flourish, do we really grow. I think the forum will prove to be a rare platform to learn the richness of a regional diversity and how to be yet more effective in recognising and enhancing the value and potential of self, the community and the world at large.
Lastly, it will be an understatement to say that I highly appreciate not just the effort and earnestness being put into by IATSS Forum Secretariat in India and Japan to make our experience educative and enjoyable, but what stands out for me is the warmth, care and compassion with which you are doing so!
I am sure I'll come back with rich memories and richer experiences. As a thank you to you, I would like to give back a thousand-fold to my people, my community—I yet not know how, but I am sure the programme will help me think of different ways this could be done.
Ichi-go ichi-e (once in a lifetime), that's what I believe this programme will prove to be for me.