参加者の声
Lasta

[61期生(2019年春)]

[インドネシア]
61期生(2019年春)インドネシアに参加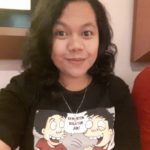 参加前のコメント
Hello from Indonesia !!
I am Lasta Dewi. I am very honored and felt lucky when I heard that I selected one from Indonesia. I believe that leader skill is shaped and trained. IATSS Forum is a good forum to train and to facilitate me How to learn from the expert about the development of our skill. I really excited to join with the other professional young worker from Japan, India and also ASEAN. I hope that we can discuss, share and learn from another point of view.
When I accepted 2nd travel kit and read about the syllabus, I can imagine what we will learn about and I more excited to go. I can`t deny, Japan is one of my list countries to go, with a wonderful environment and great person, I will enjoy every schedule.
I hope 57 days will be a great experience and a valuable chance of my lifetime. I look forward to meeting all the IATSS Forum Staf and you guys. See you !!!
参加後のコメント
Hai, best regard from Indonesia !!

IATSS Forum is an unbelievable program with unbelievable participants and unbelievable staff. Within learning and thinking together spirit, 55 days in Japan is beyond my expectation. IATSS forum is so unique than other development programs, we came from 11 countries learn from each other, different point of view and culture, we shared and built up each other. Not only improved my social skill but also gave the other`s perspective of sustainable development and sustainable community in Japan and ASEAN countries too.

Fail and mistake are accepted in here, honestly, made us comfortable and believe in ourself, no judgment, and no underestimate from each participant. This program has spun off myself to become a better person and I have just been knowing my self better through field study, seminar, group study and many activities which showed me about what is the meaning of leader and leadership. It also opened up me about respects, how to put my shoes on and when I can use the shoes that I have. Every activity has involving us to discuss, being a good listener, being a good facilitator for each other and how to accept the others strengthen and weakness. So, no one left behind.

I would like to say thank you very much, for involving me in a prestigious program and equipping me with wonderful experiences in Japan.
Arigatou Gozaimasu !!