参加者の声
Asyura

[61期生(2019年春)]

[マレーシア]
61期生(2019年春)マレーシアに参加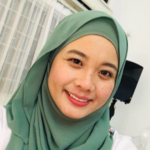 参加前のコメント
Time flies. Another three weeks to go. Thank you Allah for his blessing. Being selected to represent my country Malaysia to the 61st IATSS – the Asian Young Leader Forum in Suzuka Japan like a dream come true! I just received my 2nd travel information kit, and I know that I'm are going to learn so much and will be occupied with forum, study tour, cultural exchange and others activities.

11 May 2019 will be the date that I'll be flight off. I really can't wait for this date to come – to learn, experience, discover myself and discover the world! I look forward to share my skill, knowledge and experience with other young leaders across Asia and at the same time broaden myself with knowledge and understanding of the social, cultural, environmental, economic and political perspectives of the ASEAN countries and in particular, Japan. The cross culture teamwork and working with people from different professions and backgrounds will definitely be exciting and an eye-opener. The knowledge to be gained from this forum in particular the unique culture and lifestyle of Japan would be useful for my professional development, enhance my self-esteem and improve my leadership skills.

And also, the staff and members of IATSS forum have been very warm, welcoming and hospitable even prior to our arrival – domo arigatou gozaimas! I'm sure we will all have a wonderful time there!