参加者の声
Irene

[61期生(2019年春)]

[シンガポール]
61期生(2019年春)シンガポールに参加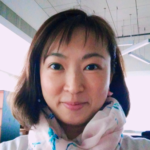 参加前のコメント
"Hello everyone!
At the time of writing this, preparations are well underway to ready me for my upcoming participation in the 61st IATSS Forum: getting to know my fellow participant, gathering resources for our presentations, collating materials for the country booth, et cetera – and all this is just a small taste of what is in store for us. Indeed, this journey of personal and professional discovery has already begun!
In the lead up to my departure, I am looking very much forward to a rich and intensive time of accelerated growth. It is impressive how carefully curated the program that awaits us is, and I hope that I will be able to contribute as much as I receive from this valuable opportunity. The theme of this forum, "Sustainable Community Design," is both thought-provoking and timely, and I feel sure that I will be enriched by the multitude of seminars, discussions and field trips planned for us.
I am also excited to finally meet all the IATSS team and fellow participants. The prospect of 55 days of adventure-filled learning, one that will be informed by the diversity of experiences from various cultures, is inspiring. I hope to expand my understanding of global cultures and develop stronger empathy and communication skills.
Thank you for this valuable opportunity, and I look forward to an exciting journey ahead."