参加者の声
Irene

[61期生(2019年春)]

[シンガポール]
61期生(2019年春)シンガポールに参加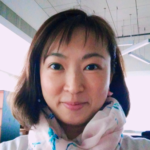 参加前のコメント
"Hello everyone!
At the time of writing this, preparations are well underway to ready me for my upcoming participation in the 61st IATSS Forum: getting to know my fellow participant, gathering resources for our presentations, collating materials for the country booth, et cetera – and all this is just a small taste of what is in store for us. Indeed, this journey of personal and professional discovery has already begun!
In the lead up to my departure, I am looking very much forward to a rich and intensive time of accelerated growth. It is impressive how carefully curated the program that awaits us is, and I hope that I will be able to contribute as much as I receive from this valuable opportunity. The theme of this forum, "Sustainable Community Design," is both thought-provoking and timely, and I feel sure that I will be enriched by the multitude of seminars, discussions and field trips planned for us.
I am also excited to finally meet all the IATSS team and fellow participants. The prospect of 55 days of adventure-filled learning, one that will be informed by the diversity of experiences from various cultures, is inspiring. I hope to expand my understanding of global cultures and develop stronger empathy and communication skills.
Thank you for this valuable opportunity, and I look forward to an exciting journey ahead."
参加後のコメント
"Looking back, the 2 months at IATSS flew by so quickly. There was always something to do, new things to learn, fresh friendships to forge – so much learning by thinking and doing together! The attentive and dedicated care shown by staff, as well as the enthusiasm and warmth by Suzuka volunteers, also made our stay in Japan feel like home. The training programme here is truly like no other, and it is a real honour and privilege to be a part of the IATSS family and alumni now.

In coming as a participant for IATSS Forum, I knew that I would emerge at the end a different person. What has surprised me, however, is the level of intensity in the transformation I have undergone, and this is due to the holistic training that the IATSS programme provides. where it addresses both individual and collective growth, over a significantly extended period of time.

Close to 2 months in after my return from Japan, I am witnessing the positive transformation within me as I approach my life and my work. I am full of gratitude, appreciation and thanks for this wonderful opportunity and would like to extend my full-hearted thanks to everyone who made this possible."