参加者の声
Claire

[62期生(2019年秋)]

[シンガポール]
62期生(2019年秋)シンガポールに参加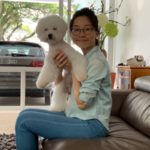 参加前のコメント
Hello everyone!
I am Claire, and I work in the Fragrance and Flavours industry as an Account Manager. I'm very thankful for being selected to join you all as a participant in the upcoming 62nd IATSS Forum. Time flies as we're in the midst of preparing for the seminars, presentations, performances, study tours, and many, many more activities lined up for us – I would also like to say a HUGE thank you to the team behind this forum as I am sure there is so much organization and preparation necessary!
As young professionals with a good balance of experience and passion to make a difference, the forum is a good opportunity for us to pull ourselves out of our work and other daily activities to think on a more national/regional/global scale about environmental sustainability issues that will affect us all.
Additionally, on a personal level, I've always believed (as cheesy as it may sound) that diversity is strength. I've worked with cross-functional teams filled with people coming from different cultural and religious backgrounds across the world, and there is always something new to learn and share from our differences. I'm really looking forward to our exchange of ideas as we bring our passion and energy to discuss issues relevant to all our communities in this modern age.
I look forward to meeting and befriending everyone in September! See you all soon. :)
参加後のコメント
One of the first phrases we learned attending the forum is "一期一会" (ichi go ichi e) meaning a once-in-a-lifetime encounter, and how apt a description this is for our 2-month journey.

I have gained immensely from the forum especially in terms of friendships.
Even though two months is not that long a time, we have forged deep bonds with one another through shared experiences.
All of us participants from different countries bring diversity not just in nationality but also in profession, family background, and interests - there is just so much to learn from everyone. And at the same time, it's great how similar we are – we share the same values and the same passion to make a difference to our communities.
This is really encouraging and inspiring, and I am glad I got the chance to come here and meet everyone.

I have also gained a broader perspective from all the seminars as we have explored macro issues like politics, education, environment, and many others.
This is quite different from my day-to-day work where I am focused on business and more "micro" issues, not so much on a national and international level. And through the field studies, we have experienced for ourselves the effects of disasters, the culture and atmosphere of Japan, and the feelings and strength of the community which make our learnings so much more impactful. Going through this forum has made me realize that there is so much more I can do more for my country and my region.

There are no other words to express how grateful I am for this amazing opportunity.
I will do my part to make use of our learnings and generate a real impact on my community.