参加者の声
PeiYing

[62期生(2019年秋)]

[シンガポール]
62期生(2019年秋)シンガポールに参加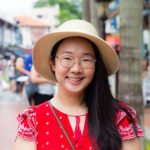 参加前のコメント
Hello there! I am Peiying, and I work as a storyteller/editor/manager at an editorial studio based in Singapore. My job entails thinking about how to enhance Asia's voice in the global narrative, and bring Asia's nuances, diversity, and culture to the forefront of conversations. I was a History major in university, and it's shaped me significantly. I believe in all stories is a past that explains the present, and sometimes in that lies the answer for the future!

I think IATSS is very unlike most traditional leadership programs, and seeks to expose us to a myriad of perspectives and lessons. Attaining sustainability is probably the greatest challenge our world has today. People often use the term for nature and conservation, or for environmental protection and preservation, but it is much more than that. It is also about equal opportunity, diversity, and so on. These are matters that are all incredibly close to my heart and in the work I do. I think Japan is definitely a leader in the sustainability conversation, and inclusivity is something that's built into the design of its cities and societies.

They say learning is a lifelong journey, and indeed I am so humbled to be selected as a 62nd IATSS Forum participant! Thank you so much for putting this together! I'm counting down the days till I get to be in Japan, to meet all the other wonderful participants, volunteers, and organisers. I'm very honoured to be given this opportunity, and I am very excited to see a side of Japan I have never known. More importantly, I can't wait to make new friends! Diversity is strength, and I'm sure the diverse participants at this forum will be mind-blowing :)

Thank you!!
参加後のコメント
When I left my life behind in Singapore, and hopped on the plane to IATSS Forum, never did I expect that my worldview would be changed so significantly.
Being part of the 62nd IATSS Forum has changed my life, my personality, for the better.
I was expecting to sit in classrooms, observe the work of others, and do more passive learning.
Never did I expect the intensity and rigour that the programme will provide in my self-reflection and self-questioning as a leader.

Before IATSS Forum, I was someone who strongly trusted my instincts, which also meant that I often listened only to my own voice, and made quick judgment of others and situations.
IATSS Forum has shown me clearly that I can be wrong, and has made me really see what it means to exercise empathy and be open-minded.

Beyond that, I have also learned invaluable soft leadership skills on the programme.
These include how to resolve conflicts, how to be a facilitator, and how to support others to achieve their potential.
It also changed my perspective on global and regional affairs entirely, and made me realise the importance of sustainable community in solving our greatest challenges.

The IATSS Forum experience is one that I will never forget. My experiences here were incredibly real and authentic.
We faced great difficulties, but we also had tremendous support from one another in overcoming them.
I highly recommend this programme because you will not only learn, but make wonderful family and friendships that last a lifetime.
This part, is priceless. I made brothers and sisters here. The staff have been incredible in making this our home away from home.
I will miss everyone very dearly, and count the days till I meet them all again.

Thank you!!!! Arigato gozaimasu.