参加者の声
PieYing

[62期生(2019年秋)]

[シンガポール]
62期生(2019年秋)シンガポールに参加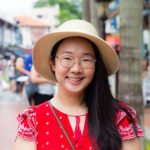 参加前のコメント
Hello there! I am Peiying, and I work as a storyteller/editor/manager at an editorial studio based in Singapore. My job entails thinking about how to enhance Asia's voice in the global narrative, and bring Asia's nuances, diversity, and culture to the forefront of conversations. I was a History major in university, and it's shaped me significantly. I believe in all stories is a past that explains the present, and sometimes in that lies the answer for the future!

I think IATSS is very unlike most traditional leadership programs, and seeks to expose us to a myriad of perspectives and lessons. Attaining sustainability is probably the greatest challenge our world has today. People often use the term for nature and conservation, or for environmental protection and preservation, but it is much more than that. It is also about equal opportunity, diversity, and so on. These are matters that are all incredibly close to my heart and in the work I do. I think Japan is definitely a leader in the sustainability conversation, and inclusivity is something that's built into the design of its cities and societies.

They say learning is a lifelong journey, and indeed I am so humbled to be selected as a 62nd IATSS Forum participant! Thank you so much for putting this together! I'm counting down the days till I get to be in Japan, to meet all the other wonderful participants, volunteers, and organisers. I'm very honoured to be given this opportunity, and I am very excited to see a side of Japan I have never known. More importantly, I can't wait to make new friends! Diversity is strength, and I'm sure the diverse participants at this forum will be mind-blowing :)

Thank you!!