参加者の声
Sachin

[62期生(2019年秋)]

[インド]
62期生(2019年秋)インドに参加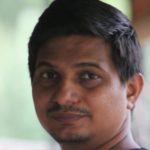 参加前のコメント
Hello everyone! Greetings from India! I am Dr.Sachin Barbde, a public health physician working in not for profit organization called Ekjut in state of Jharkhand, India. I am involved in developing a community based mental health intervention for indigenous people in rural parts of Jharkhand. I believe in participation and our work is based on principle of participation i.e. participatory learning and action approach to tackle problems of health, gender based violence, adolescent problems, urban homelessness.
I am really excited to meet all of you and could not wait further. When I knew about IATSS Leadership program in last year, the first thought came in my mind about the culture and innovation in Japan and the very purpose of this program to develop the concept of Asian Leadership. I believe in diversity, equity and empathy as my core principles. I am really happy to share my thoughts, emotions and learnings to fellow participants from 10 diverse countries. We as a team will also learn mutually and about the Japanese people, places and culture during this program. We as human are really concern about the existential problems like climate crisis. So we have to work to achieve sustainable developmental goals within the estimated time frame. The need of hour is to work together to solve the problems and solutions could be out of box and diverse.
The beauty of different cultures, languages, foods, costumes is mind blowing and we in India always believe that unity in diversity as we are truly a diverse nation. Thank you very much for providing this great opportunity to experience the diversity and work for sustainable developmental goals. I look forward to meet u all in person.