参加者の声
Var

[62期生(2019年秋)]

[フィリピン]
62期生(2019年秋)フィリピンに参加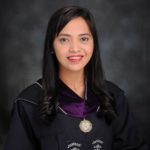 参加前のコメント
Hello everyone!

I am Varellie (or Var to my colleagues and close friends), a simple CPA lawyer and public servant from the Pearl of the Orient Seas – the Republic of the Philippines. I am greatly honored to become part of this 62nd IATSS Program.

I remember it was back in high school when I realized what I truly wanted in life –to make a difference to this world. That is precisely why I chose to take up the hurdles of the law profession. I wanted to make this world a better place. Thus, when my name was called as one of the successful applicants after the final interview, I was thrilled. Finally, here is the opportunity to make a change.

In addition, I am looking forward to uncovering the wonderful Japanese culture. I grew up watching anime and reading manga, but I know that Japan has more wonderful things to offer that are just waiting to be discovered. I cannot help but feel enthralled with this chance to meet new people and be absorbed in the culture, life, places and delicacies of the Land of the Rising Sun.

Lastly, I am looking forward to meeting new friends in the person of my co-participants, facilitators, staff and alumni as I embark in this wonderful 55-day journey.

See you all very soon.

See you soon, Japan.