参加者の声
Sophea

[62期生(2019年秋)]

[カンボジア]
62期生(2019年秋)カンボジアに参加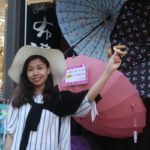 参加前のコメント
Dear Everyone,

Good morning from CAMBODIA (Arun Soursdey)!

My name is Sophea. This is my 3rd time in Japan, yet I am still very excited to be there again with IATSS 62nd batch and meet with all the young leaders from ASEAN countries. In Cambodia, I am an entrepreneur and co-founder of the first private nursing home, Vissar Medical and Nursing Center.

Attending IATSS is my long passion to exercise and grow my personal strength and leadership through observing, cooperating and learning from Japan and ASEAN fellows in the program. I always admire Japan in many aspects of intelligences such as social rehabilitation, sustainable development, education, healthcare, technology, infrastructure, disaster management and way of preparing and coping with challenges. I love the theme of this program "Thinking and Learning Together". I believe as ASEAN countries, everybody have gone through our individual stories and challenges, both happy time and hard time. IATSS program allows us to put them in one box and learn from each other experience, share our key challenges and key success. I am optimistic that we will take the gains and strengthen our capability in overcoming our future challenges and to become better personally and professionally.

As a Cambodian representative, I will optimize my time and contribution toward IATSS 62nd batch. I hope we all could achieve our objectives, bring out the best version and unleash all the hidden potential inside us out of this program. Together we can do it, Cheers!