参加者の声
Noy

[54期生(2015年秋)]

[ラオス]
54期生(2015年秋)ラオスに参加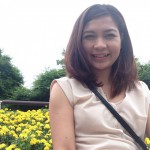 参加前のコメント
サバイディー!ラオスの首都ヴィエンチェンからこんにちは。
IATSSフォーラムの54回生になることが出来てとても光栄です。フォーラムの同窓生である友人から、このプログラムがどの様に彼女のマインドを変え、感銘を与え、現在の彼女を作ってきたかという話を聞かされました。
仕事や様々な都合から長年面接に行くことができなかったけれど、去年やっと面接に行き、合格することができました。面接では面接官から様々な質問を受け、どのように自身で自己成長していくか、どの様な人物になり、どう社会に貢献していくかを改めて考えさせられました。
私は若手のマネージャーとして、またプロフェッショナルとして、様々なセミナーやアクティビティを通して成長していきたいです。教授からの講義やセミナーなど様々な経験、そして共に学ぶ研修生たちからも多くのことを学んでいきたいです。
全力を尽くしてこのプログラムに取り組むことを楽しみにしています。
参加後のコメント
Sabaidee IATSS family new member batch 55th, my name is Lila from Laos! Congratulation for your successful selection to be part of batch 55th IATSS Forum.

When I first heard about IATSS forum and by reading their website I was thinking that I will studying about Leadership in a classroom where professors will provide information and theories on how to be a good leader. Thus, by attending the program, it was not at all like academic programme, with IATSS leadership programme, they will not teach you the theories or how to lead your team but to put us in a kind of platform which was perfectly arrange and set up by the IATSS team.

We learned not from textbooks but from successful stories and experiences that eventually happened in Japan through visits and talks from people who have been through all process and have either survived or continuing following their goals as to sustain the community and to preserve their best practices and tradition.

It is for us to set our own objectives of why we want to participate in this programme, we all need to prepare ourselves mentally and physically, the programme will be very tough depend on its tight schedule which IATSS team would like to provide us as much as possible the information and the knowledge in order for us to succeed in our own project implementation. We need to take our own initiative as a leader on how to manage time and identify our resources in order to achieve the objectives set.

Through the process, we have learned that we all have our own ideas and with different background sometimes it leads us to conflicts when working in the group. The important is how we see our common objectives and how we could come out with the most appropriate solutions, always remind ourselves that we are there to learn and not to win or lose, the different ideas will be our biggest challenges but it is our choice whether we want to achieve the objective together which will take longer process and time or will just follow our own ideas where we can achieve faster but might or might not sustain.

IATSS Forum had taught us a lot, we learned how to respect each other and to embrace the differences. It is fine to make mistake as long as we learned from it. From the first day when we felt like strangers to the last day where we departed with families and friends. I have gained a lot from IATSS and hope that you all will gain even more.

Good luck and most of all have fun!