Participant's Voices
B

[56th batch (2016 Autumn Forum)]

[Thailand]
Participating in 56th batch (2016 Autumn Forum)Thailand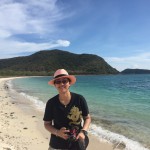 Voice before the participation
Greeting you all from Thailand 
I am Suparindaporn Wongyara or you can call me "B". First of all, I would like to say thank you to IATSS committee & organizers who grant and facilitate this once-in-a-lifetime opportunity for me to be one of participants of IATSS forum Batch#56.
I strongly believed that this program will offer a good chance for me to learn and understand various ideas, beliefs and experiences including openly sharing my own under the motto of "Learning and thinking together". As I work in middle management level, I wish to be a professional leader by participating in provided various seminars and activities from this young leadership program. It would be great to explore and broaden my knowledge from the program and all participants. Also, I wish to have a change to learn about the similar and different aspects among all participants from various countries in Asean community not only their cultures but also the way of life, thoughts, beliefs, food and so on.
Last but not least, I expect that this program will shape and encourage me to be a better leader who can foster team member to work together in amicable working environment. Hopefully, I could bring know-how and all experiences that I will get from joining in this forum to contribute to my team, my organization and expectedly my country.
Look forward to seeing you guys soon.
Cheers,
Voice after the participation
Topic : Useful message or advice for the up-coming participants, like "do and don't during the IATSS Forum".
Sawasdee kha from Thailand,
I would like to express my impression to the 56th IATSS Forum which I spent 55 days in Japan with various friends among Asean. It is valuable and memorable experiences for me. I learned to adapt myself to new environment, solve problems, find out the solutions and also get along with people who have different religions, beliefs and opinions. It is better to open your eye, heart and mind for new things there. Of course, you may have to be naked among your friends but believe me; you will be familiar with it at the end.  Please do not expect what you will meet and you will be excited to get to know them.
Sometimes, you may be so tired with tight schedule and assignment but finally, you will be able to pass them with kind support from IATSS staff, volunteers, alumni and your beloved friends or even new family in Japan. The fabulous things in this world like love, friendship and good memories will be happened in the IATSS Forum. Throughout all the things I have learnt, what really left a great impact to me is Japanese time management. I hope to utilise this manner for my personal life and contribute by being a role model to all Thai friends and colleagues.
Importantly, please get fit before coming and stay strong in Japan, bring warm clothes and personal medicine, if need. This is high recommendation from me because I got flu for 2 weeks before I left Japan and it stole my good time.
Last but not least, it will be better if you prepare yourself about Japanese language and culture so you will be able to adapt yourself easier.
Again to all staff, thanks for everything you arranged for us, it is very impressive!