Participant's Voices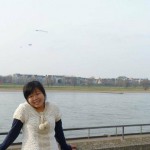 Nida
Country : Cambodia
Forum : 58th batch (2017 Autumn forum)
Greeting from Cambodia, "Chomreap Sour"! As the 58th IATSS Forum is approaching, I feel very excited and motivated to be part of this tremendous leadership training program. Japan is always one of my best favorite places to visit, explore and educate. I am impressed by the unique culture, people and nature, social governance system, especially – a strong and supportive education system and method. To me, this is a golden opportunity to share and gain knowledge with other ASEAN participants from the perspective guest speakers about the leading style, methods to solve and encounter the challenges by providing the best and effective solutions for the purpose of "sustainable growth" within our perspective communities and ASEAN as a whole. This is also a great chance where we can "Thinking and Learning Together". Addition to this, we can build a professional network and friendship, being able to work in the diverse environment with other participants from different ASEAN countries to explore the uniqueness of Japan Empire and culture; and how they convert themselves into a leading technology advanced in Asia. I strongly believe that such experience and knowledge will be a priceless treasure for the 58th IATSS participants - like me to work and do business in Cambodia as well as in the region. For me, success is achieving one personal or organizational goal without diminishing the other opportunities of one's own, other people and the environment or the earth to become successful.
Topic: Tips for the upcoming participants to maximize the use of their time during the training.
Being selected as one of the 58th participants is a once in a life time adventure opportunity for me to sharpen my leadership skills as well as to explore my hidden talents in the diverse environment of young ASEAN leaders under the motto of "thinking and learning together". The 55 days training in Japan can be a difficult period of time for participants as they must be away from their beloved family, friends and work but it will pay off. To me, this period was a golden period where I built great friendships, experienced the local (lifestyle, food, language, accent), interacted with local people and my host family, gained more understanding of Japan's riches culture and art, and experienced getting lost in the center of Tokyo station. These experiences have given me a lot of benefits in my daily life during and after the program. Every single day at the IATSS forum has been an amazing adventure and journey because we turned the challenges and differences into opportunities that we could use to get to know each other more. The next batch should expect this kind of experiences and treasure it because this would benefit you as well. Lastly, I really am appreciative and thankful to all the IATSS staff, professors and guests speakers wholeheartedly, not only for their tremendous knowledge sharing in the workshops and seminars, but also for their facilitation and caring of each participant from each of the 9 ASEAN countries.