Participant's Voices
Mark

[58th batch (2017 Autumn forum)]

[Vietnam]
Participating in 58th batch (2017 Autumn forum)Vietnam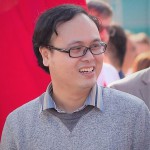 Voice before the participation
Warmest greeting from VIETNAM!

My name is Man Tran from Da Nang, Viet Nam.

In 2006, with the support from Da Nang government's Scholarship, I had the opportunity to study at the University of Queensland, Australia. After 5 years studying and working overseas, I came back in 2011 and have been working for Da Nang Department of Planning and Investment since then. As the head of Investment Appraisal and Supervision Division, I am responsible for the deployment and supervise the bidding of projects funded by the city's budget. As consequence of the developmental process, and like many other cities around Southeast Asia, Da Nang is now facing abundance of rising problems in urban planning and management.

Through researching on the history of Japan, I have found out that many Japanese cities had the same situation during their development stages. But after all, the vision and leadership of many generations of Japanese leaders have solved these problems and successfully shaped a thriving economy but retained its traditional and historical values.

Thank IATTS's founders and staff for bringing me such a great opportunity to join the ASEAN circle of youth. I believe that despite of the differences in culture, religion or personal motivations that lead us to this opportunity, we will be all passionately sharing a vision and hope for a better and more sustainable future in ASEAN.

Let make this once-in-a-lifetime experience unforgettable
Voice after the participation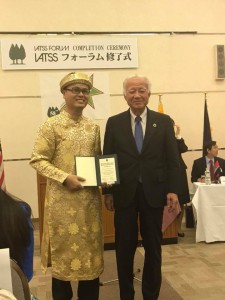 55 amazing days in Japan!
For me, "Amazing" is the most suitable word to describe the study trip at
IATSS. In Japan, I had the opportunity to acquire a great deal of knowledge
about sustainable development as well as important teamwork skills,
especially the facilitation one. What I truly appreciate after the course is
that I have become the person always listening actively to others and much
more opened to ideas from different perspectives. Now at my workplace, our
team can discuss freely and generate ideas to enhance our productivity and
creativity.
It is "amazing" that not only does the trip bring experience about the
culture and people in Japan but also valuable life lessons. All of the
questions have been made clear and I finally could understand what lies
behind the miraculous success story of Japan.
It can be said that the 55 days in Japan was the moment of a lifetime for
us, 19 people learning and working together under the guidance of IATSS
staff who are greatly passionate and patient. I highly recommend this course
to any person looking for an opportunity to discover the hidden part of
yourself. This is an amazing place on earth to be!