Participant's Voices
Archie

[59th batch (2018 Spring Forum)]

[The Philippines]
Participating in 59th batch (2018 Spring Forum)The Philippines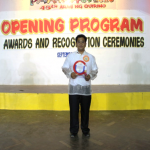 Voice before the participation
"Most people remember their experiences on how they succeed and how they fail; the happiest and the saddest moment of their lives; the most challenging and the easiest scenario; the first or the last part of their interaction."
Thru my journey to be one of the blessed selected participants of the Leadership Training Program of the 59th IATSS Forum, I can say that to be one of the official delegates of the Philippines is one of the achievements that I will treasure for the rest of my life. A treasure that will not be kept but a treasure to be shared to everyone. It is one of the happiest and challenging moment of life.
During my final interview, the final question of the jury that I remember was: "If you will be given the chance to be one of the participants of the leadership training program, what will you bring home?" I've answered: "I want to learn the knowledge, skills and discipline of a great leader; I want to bring home in the Philippines a competent and effective leader; and I want that leader within me."
You will be glad to know that a young Filipino professional named Archival B. Sabado, designated as the Focal Person for Research and Development of the Department of Agriculture – Quirino Experiment Station, Regional Field Office No. 02, Philippines is expressing a heartfelt gratitude in advance for the chance to have a good turning point in my career, professional, personal and social life. Furthermore, I look forward to have brothers and sisters from other ASEAN countries. With them, we will train to improve our selves to become good leaders thru the research activities, immersions, field visits and other training activities.
With God's permission, I am excited to this new and fruit full chapter of my life. The chapter with a fruit that will bring home a competent and effective leader within me.