Participant's Voices
Nang

[59th batch (2018 Spring Forum)]

[Myanmar]
Participating in 59th batch (2018 Spring Forum)Myanmar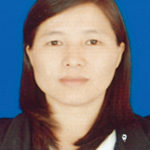 Voice before the participation
Voice after the participation
55 days IATSS forum in Japan is "Ichi Go Ichi E" in my life. Thank you to IATSS forum staff, professors who give us indispensable skills to be society supporter in psychical and cognitive work. I am proud of learning and spending time together with personable participants from ten countries in the IATSS forum training in Japan. I am enthusiastic to meet all again in the alumni event in the future.
IATSS forum learning style is participant-oriented approach, participants solve arduous problem in the group discussion. The IATSS forum prepare various learning activities for inside and outside the classroom that increase us leadership skills and open minded. The IATSS forum do not give you single answer to achieve something in the learning process so, the participants must be responsible and proactive in the entire learning process to achieve our share goal.
It is an enjoyable and beneficial learning journey. We have got plenty of experience, knowledge and skills that will be precious of our life.