Participant's Voices
BD

[62nd batch(2019 Autumn Forum)]

[India]
Participating in 62nd batch(2019 Autumn Forum)India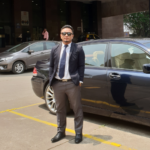 Voice before the participation
Hello everyone. Greetings from Mizoram, India.
My name is Lalbiakdika Ngente, but people simply call me BD. I'm 27 years old currently working as the General Manager in LB Associates, a construction and architecture consultancy firm. Academically, I have degrees in Master of Arts (English Hons.), Master of Business Administration (HRM) and a Diploma in Sports Management.
The first thing that came to my mind after hearing about this program was diversity; the amalgamation of different ideas and ideologies and the process of learning how to look at things from different perspectives. Knowing full well that the 57 days will be spent amongst the company of great minds from different countries with different cultural, social and ethnic backgrounds brings much excitement to the whole program. Though we may share things in common with other individuals, at the end of the day, everyone is their own person and can bring different things to the table, which is why the diversity in the IATSS Forum is going to be a big help for me. The problems which we thought only had a single set of solution back home, may have different ways to get it solved after getting the ideas and ways people handle things in different parts of the world. A discussion among diverse, creative people will never remain stagnant since they are willing to consider alternatives to the way things are currently done, and they see objects, people, and situations from multiple perspectives.
Being involved in a number of national and state level sport associations in my country, dealing with people from various backgrounds, with different mindsets has been the biggest obstacle. The experience will give me a better understanding of my colleagues which will create a better working environment both in my workplace and also among the associations.