Participant's Voices
Julian

[62nd batch(2019 Autumn Forum)]

[Indonesia]
Participating in 62nd batch(2019 Autumn Forum)Indonesia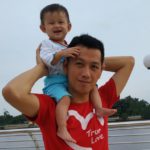 Voice before the participation
Halo, apa kabar?

Greeting from Indonesia!!!

My name is Juliyanto (call me Julian) and I am really grateful for this rare opportunity to be part of IATSS forum batch 62. Honestly, I might have used a great amount of luck to be selected on it. I know the other participants are highly capable person in their own way, so I can't wait to learn a lot from their skills and experiences.

A top of that, I am really amazed with Committee's preparation and quick support. This is my first time to see a such well planned Forum and they even care to customized participants' meal according to several aspects (you will know later, so please register for the next batch 😊). When I wrote that I have allergy of cold such as if I eat ice cream, one committee ask me further about the detail. My mom later said that IATSS committee might even put more care to my health than herself 😅. It is really an awesome treatment.

This would be my second time to Japan. Last time, I am really impressed with the environment cleanliness, people politeness and ethics. I wonder if I could brought some good system to be implemented in Indonesia, at least for the cleanliness aspect. Anyway, the theme for this forum is very interesting and important (Sustainable development for designing a sustainable society). As we face many issue in several aspects, we need to keep asking ourselves on how to fix and make things better, at least act for our good without harming the others. Hopefully, we the participants could find the root causes of some issue deeper and gain insights on how to solve the society issue to attain sustainable community development. I am looking forward for it.

Then, see you all in Japan.