Participant's Voices
Vitou

[50th batch (2013 Autumn Forum)]

[Cambodia]
Participating in 50th batch (2013 Autumn Forum)Cambodia
Voice before the participation
It was such an exciting moment to hear that I was selected to join the 50th IATSS Forum in Japan. Wow, Japan!!! I have been abroad before, but I had never experienced Japan. I hope this is not just the first time for me to experience such a developed country, but a nurturing ground for me to be a better person. I have been hearing about exciting tourist sites, world-class industries, well-established skyscrapers, and many more architectural structures. Particularly, I have always appreciated the commitment and leadership capacity in which Japan has put-in in order to reestablish the whole nation since World War II. I have been amazed by this rapid recovery and strongly hope that the exposure to this 50th IATSS Forum will be a great stepping stone to make my dream come true which is to replicate some successful examples in order to contribute to the development of Cambodia. What is more I will have an opportunity to implement a project which might impact society as the evidence of leadership skills acquired from this program. Finally, I was more than over the moon to stay with other professionals from multi-nations for two months where I will be able to have a lot of valuable exchange. Now I am counting down. See you soon Japan. Love you all, Vitou. 
Voice after the participation "VOICE AFTER THE PARTICIPATION IN THE 50TH IATSS FORUM"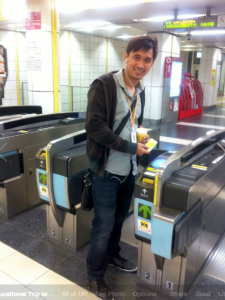 How my experience at the IATSS Forum has influenced on me?

I have counted on the experience at the IATSS Forum as one of the most influential experiences I have ever had in my life. It was more than just an experience, but very impactful on many aspects of my life both personal and professional aspects.

For my personal aspect of life, I have developed my personal attitude towards people around me like my friends, relatives and colleagues at work. The positive attitude that I have perceived through the entire forum has drawn a lot of attention from others through the self-motivation, communication, conflict resolution, negotiation, task prioritization skills and many more. With these several components of life skills I have won two other scholarships to work in France through the Erasmus Mundus (European Scholarship) at the University of La Rochelle, and won a PhD scholarship to study at the University of Auckland, New Zealand.

Concerning the professional aspect, I have created the conducive working environment for my colleagues at the International Relations Office at my university and they have changed their working attitude to be even more productive with high motivation. Also recently, I have been offered another consultancy job to work for a Unicef Project with the Ministry of Education. This was resulted from the research and team work experiences which was of course depicted outstandingly in my resume after joining the IATSS Forum program.

These insightful and unique experiences that we cannot find anywhere else have embarked on my life and brought many more sparks to my current and future personal, educational and career aspects of life.

I recommend all the next participants to put serious attention in this valuable program and wish them all the best for their future.