Participant's Voices
Kyaw Zin

[50th batch (2013 Autumn Forum)]

[Myanmar]
Participating in 50th batch (2013 Autumn Forum)Myanmar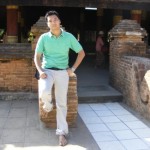 Voice before the participation
"Time and Tide waits for No man" is very popular and useful old saying. As the saying, the great time is getting closer to me. It's only 2 and a half months to go until I can participate in the most effective and long running forum ever, known as the 50th IATSS Forum in Japan.
I think back to last year I was very excited when they announced the names of 2 participants on the list. I lost my ability to speak at that moment. I thought I was lighter and higher than others. My dream has come true now.
I myself represent Myanmar and can exchange and learn with Japanese people and members of ASEAN countries' cultures, traditional practices and their life experience. I hope that I can learn and build up my capacity under the common theme, "Thinking and Learning Together" with talented people from Japan and ASEAN countries.
As we all know, "JAPAN" is a leading country which is developed with high technology, Standardization, Innovation and so on. Now, I am confident that I will apply all I learned in related Sector after studying their Powerful System, know-how and the approach method through the Forum.
I am looking forward to seeing you all!