Participant's Voices
Madz

[50th batch (2013 Autumn Forum)]

[The Philippines]
Participating in 50th batch (2013 Autumn Forum)The Philippines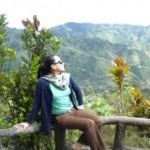 Voice before the participation
This is an answered prayer! Actually, this is my second time to apply for this scholarship. I was not accepted last year but fortunately this year, I was selected as one of the alternate participants and eventually was chosen to represent our country. It has been two years since I started praying for this opportunity and I thank God because He gave it to me. So, Japan here I come! I hope to enjoy my stay! Thank you IATSS forum for this wonderful privilege to develop and nurture the leadership potential I have through effective interaction and exchanges of learning with future ASEAN leaders.

Truly, I see myself as a leader and I believed that the value of the forum is the essential to build a leader who strives to bring out the strengths of a group to its fullest. Someday, I hope that I will be a catalyst of change to where God has put me and be able to develop leaders in my team. I strongly believe that all experiences from the IATSS forum will not only make me a better and effective leader, but a builder of leaders as well. I hope that participation in the forum will not only make me a leader but I hope it will broaden my perspectives regarding issues of our respective countries and the world as a whole. I hope to harmoniously work with other participants, and together contribute to the success of the IATSS Forum. To God be the glory!
Voice after the participation
Greetings from the Philippines! God is so great indeed to be part of the 50th - being blessed with an opportunity to learn in Japan for 57 days. The forum thought me so many principles in life but the greatest of all the learnings I have kept with me from the day I was interviewed and selected to day I left Japan was the word "FAITH."
FAITH…believing that God knows better of my future than I do;
FAITH…that I can finish the 57 days F1-Race in Japan with excellence;
FAITH…that I can accomplish all assigned tasks amidst what I/we are going through;
FAITH…that I can improve more;
FAITH…that I can gain the trust of diverse group of people;
FAITH…that I can contribute to my community; and
FAITH…that I can keep going!
To the next batches, I pray that you will have this kind of FAITH. Do not be afraid! You are the chosen representatives of your respective countries and this is your chance to showcase your country. Have FAITH that everything will go well with you and that everything will be a learning experience. God bless you!